5 Reasons why an agency is not just a workplace
by François Gagnon, President ERA Europe / ERA France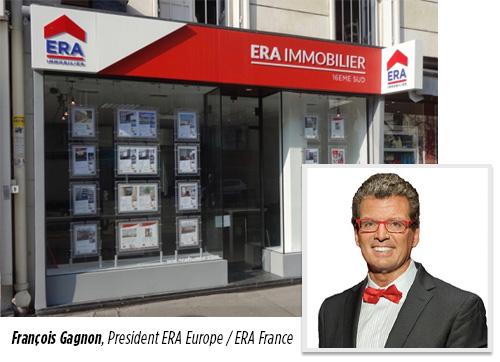 The need or not to have a physical location for a real estate agency is often a controversial subject these days. Is it necessary to have an actual workplace or, as many are now insisting, is an agency « in the cloud » or virtual sufficient in our digital world? A real estate agency is characterized by a physical presence: a location to welcome customers and agents. But to limit it to this description would not do justice to the traditional real estate office.
1. First, an actual workspace allows for recognition through the display of a sign or brand. For ERA, it is a sign of belonging to a network and the respect of certain ethical rules. It is a standard of quality that is easily recognizable and known to customers worldwide.
2. This sign outside, just like a « post-it », reminds customers that they will find people ready to assist them in the sale, rental, management or purchase of a property. This allows a future client to know there is a place where he / she can just stop by to get information on the real estate market in their area, or anywhere around the world a professional would know about.
3. The window display, just like a magazine cover, will show properties for sale and the services available by this agency. Some offices may not have window displays because of traffic or customs; that is a missed opportunity. The sign outside will attract customers, but the window display will invite them to come in. The window display will give a potential client a taste or preview of what's inside the office.
4. The physical office location is also an information place, where customers can ask questions freely, without any obligation, and learn the information they need to be able to properly reflect on the multitude of questions and decisions that must be taken into account when buying or selling a property. Many meetings are held in an agency, sometimes to create an event where customers can discuss their future projects, or simply to meet their market specialists. This is also the location where the all-important administrative paperwork for each transaction will be kept in an appropriate and professional manner.
5. Agents also can exchange with each other while in the agency, discuss their point of view on how to reach their common objectives: help customers find their next home and assist them in the process. These discussions create a social link which helps each agent to become more efficient and always improve their customer service. This can be a time to discuss the important aspect of pricing the property.
6. A property that is priced correctly will sell in the best time frame possible, and at the satisfaction of both buyer and seller. The office location is also a place where agents get trained, on this subject as well as many others, whether with an in-house trainer or through video conferencing in groups or individually.
In conclusion, a real estate agency will allow brokers and agents to do their job in the most professional manner and in the best conditions possible, not only for themselves, but also, and more importantly, for their customers.