About ERA Europe
ERA Franchise Systems LLC launched its European expansion in 1993 with the opening of ERA France. Today, ERA Europe is the fastest growing residential real estate network in Europe with 1,108+ offices in year 2013 operating in 14 European countries: Austria, Belgium, Bulgaria, Cyprus, Czech Republic, France, Germany, Luxembourg, the Netherlands, Portugal, Romania, Sweden, Switzerland and Turkey.
Buyers and sellers of real estate across Europe can easily access the comprehensive services of ERA in most major and medium size cities. To accomplish a high quality service and efficient product delivery, ERA Real Estate integrates its ERA System and services over the ERA Internet System.
ERA Franchise Systems, LLC is a global leader in the residential real estate industry with more than 40 years experience in developing consumer-oriented products and services. The ERA network includes more than 31,637 brokers and sales associates and approximately 2,390 offices throughout the United States and over 35 other countries and territories. Each office is independently owned and operated.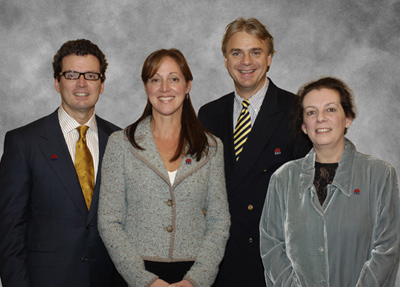 Pictured (from left to right):
François Gagnon
President
francois@eraeurope.com
Kathy Auclair
Master Franchise Development Director
kauclair@eraeurope.com
Paul van den Putten
Development Director
paul@eraeurope.com
Hélène Gagnon
Chief Financial Officer
hgagnon@eraeurope.com
Consulting
The real estate industry is ever evolving throughout the world at lightning speed. It is therefore necessary to learn from each other's successes and mistakes as well as understanding the necessary adjustments required to truly make methods, tools and systems fully adaptable so as to seamlessly integrate with any cultures or economies. This ongoing support is provided through various meetings, training sessions and video conference calls held on a regular basis and customized for individual needs. It involves all aspects of our profession from providing assistance in the administrative organization and setup of a master franchise company, to franchise sales assistance and servicing the needs of new and experienced brokers alike.

Technology
ERA Europe's technology efforts began many years ago, when the internet was still in its infancy. Although technology will never replace the services provided face-to-face by a real estate professional, it is a necessary tool to provide the best services possible to buyers and sellers anywhere in the world. In that spirit, the ERA Europe technology team directly handles many ERA European internet strategies such as ERA Germany, ERA Switzerland and ERA France (the largest ERA operation in Europe, with close to 400 offices), just to name a few. The ERA Europe technology team also indirectly supports all of the ERA Europe countries through various projects. From identifying e-reputation strategies to expanding social networking presence in Europe, to developing mobile applications to search for properties and locate agencies, or in creating statistical analysis of visitors to various properties and agency websites, while keeping in mind the importance of search engine optimization, all aspects of this technology are managed and developed daily by our team. Every avenue to improve service is explored from the use of QR Codes to interactive videos incorporating social media.